Ukraine crisis: John Kerry to hold key talks in Russia.
US Secretary of State John Kerry is to hold talks in Russia – his first visit to the country since the start of the crisis in Ukraine in early 2014.
He will meet his Russian counterpart Sergei Lavrov in the Black Sea resort of Sochi, but his talks with President Vladimir Putin are yet to be confirmed.
It is expected that Ukraine will be the main focus of the meetings.
The West accuses Russia of arming rebels in eastern Ukraine and sending its troops there. Moscow denies this.
More than 6,000 people have been killed since fighting began in April 2014 in Ukraine's Donetsk and Luhansk regions.
The clashes followed Russia's annexation of the Crimean peninsula in southern Ukraine.
'Isolating Russia'
State Department spokeswoman Marie Harf said that the trip was "part of our ongoing effort to maintain direct lines of communication with senior Russian officials and to ensure US views are clearly conveyed".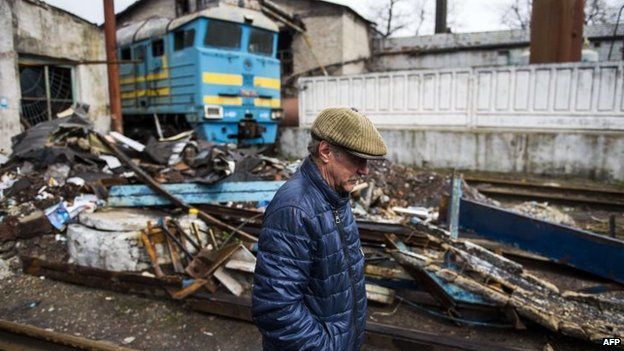 That sounds like he may press the Russian side hard on breakdowns in February's ceasefire in Ukraine and reports of Russian weapons continuing to come across the border, the BBC's diplomatic correspondent Bridget Kendall reports from Sochi.
One deputy Russian foreign minister described the agenda as complicated and not improving – which suggests tough negotiations, our correspondent adds.
The Russian Foreign Ministry said: "We expect that Secretary of State Kerry's visit to Russia will serve the normalisation of bilateral ties on which global stability depends to a large extent."
But it also blamed the US in a statement for provoking the Ukraine crisis and attempts at "isolating Russia" while prompting its allies to follow suit.
Mr Kerry's visit comes two days after German Chancellor Angela Merkel attended a wreath-laying ceremony in Moscow to commemorate the Russians killed during World War Two.
At a joint news conference with Mr Putin, she said the annexation of Crimea had caused "a serious setback in our relations".
Mrs Merkel and other Western leaders boycotted a military parade in Red Square on Saturday.
The German leader has already said that the EU plans to extend sanctions against Russia, unless there is progress on implementing the Minsk peace deal for Ukraine in full.
The lull in the conflict in eastern Ukraine since February's ceasefire has been punctuated by frequent violations. Both Ukraine and Nato have warned of a risk of a return to widespread violence.
The Ukrainian government, Western leaders and Nato say there is clear evidence that Russia is helping the rebels with heavy weapons and soldiers – an accusation echoed by independent experts. Moscow insists that any Russians serving with the rebels are volunteers.
Mr Kerry's meetings are expected to be wide-ranging, covering the conflicts in Syria and Yemen as well as negotiations with Iran over its nuclear programme.