Major explosion near Kabul airport in Afghanistan.
A bomb has exploded near the entrance of the main airport in the Afghan capital, Kabul.
The suicide attack, which took place close to an airport entrance used by military vehicles, appeared to have been targeting foreign troops, officials said.
Two Afghan teenage girls were killed in the attack, with more casualties feared and at least 18 civilians injured.
Eight women and three children were among the wounded, Kabul police said.
"A suicide bomber detonated his Toyota sedan targeting a foreign forces convoy near Kabul airport today at 09:00," Kabul police spokesman Ebadullah Karimi told the AFP news agency.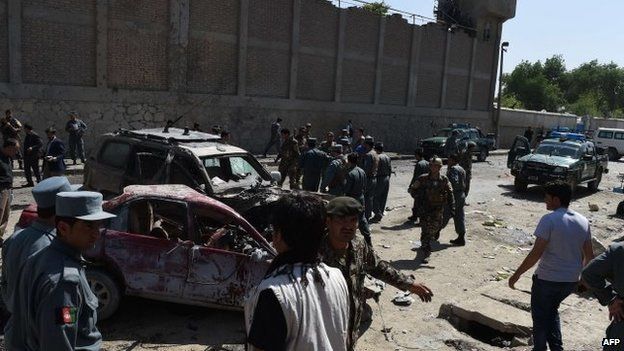 "The target of the attacker was the foreign forces convoy. So far we have two women dead, 18 others wounded, all of them civilians," he said, adding that three children were among the injured.
A spokesman for the interior ministry, Najib Danish, told reporters that one foreign military vehicle and two civilian vehicles were damaged in the attack.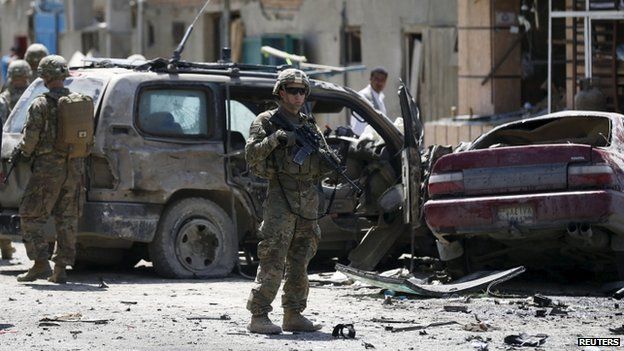 No group has yet said it carried out the attack.
However, the Taliban has claimed many recent attacks in Afghanistan, including a gun attack on a Kabul hotel on 14 May which killed 14 people, including several foreigners.
The attack comes two weeks after the first exploratory peace talks between the Taliban and a group of negotiators including representatives of the government, the BBC's David Loyn in Kabul reports.
Our correspondent says that it is clear that while talking peace, some elements in the Taliban are keeping up the pressure.